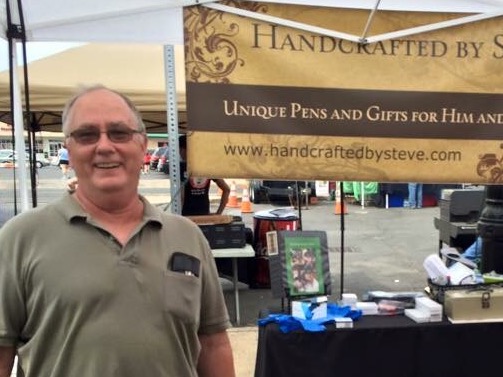 STEVE SWIFT
I always had an interest in working with wood since the days of wood shop in high school. After retiring from 36 years as a machinist at SPS Technologies in Jenkintown, Pennsylvania, I found myself looking for something to occupy my time. One day, I saw an ad for penmaking in one of my woodworking magazines and thought I'd give it a try. I found that penmaking combines my skills as a machinist with my love of woodworking. It didn't take long before I branched out into making different items such as razors and cigar holders ~ things of interest to men ~ plus things appealing to everyone (e.g., styluses, keyrings, and mechanical pencils). I am thrilled when a customer returns and tells me how much they like what I made.
I grew up in the Germantown section of Philadelphia, moving to Cheltenham, Pennsylvania during my high school years. I still reside in Cheltenham where I make my products in my workshop. I sell through craft shows in Bucks and Montgomery Counties, Pennsylvania and various New Jersey venues, such as Medford, Red Bank, Haddonfield, and of course, Collingswood.
I sell all of my products via craft shows plus my website. Customers may select the style and material for any item, and I custom make it for them.
Website and online store: www.handcraftedbysteve.com